The Conference hotel -Clarion POST Hotel
Clarion Hotel Post is a large, modern business and leisure hotel.

The hotel is located in the old post house at Drottningtorget, joined by a new extension featuring a rooftop terrace with pool and amazing views. The hotel has two restaurants, bars and a beauty and wellness centre.

The central station is located just across the street and the hotel offers valet parking service and indoor garage for anyone arriving by car.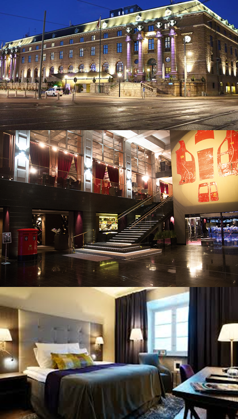 Social welfare and introduction Sweden maintains a Nordic social welfare system that provides universal health care and tertiary education for its citizens. It has the world's eighth-highest per capita income and ranks highly in numerous metrics of national performance, including quality of life, health, education, protection of civil liberties, economic competitiveness, equality, prosperity and human development.

Sweden is a Scandinavian country in Northern Europe. It borders Norway to the west and Finland to the east, and is connected to Denmark in the southwest by a bridge-tunnel across the Öresund. At 450,295 square kilometres (173,860 sq mi), Sweden is the third-largest country in the European Union by area, with a total population of over 9.9 million. Sweden consequently has a low population density of 21 inhabitants per square kilometre (54/sq mi), with the highest concentration in the southern half of the country. Approximately 85% of the population lives in urban areas.

Germanic peoples have inhabited Sweden since prehistoric times, emerging into history as the Geats/Götar and Swedes/Svear and constituting the sea peoples known as the Norsemen. Southern Sweden is predominantly agricultural, while the north is heavily forested. Sweden is part of the geographical area of Fennoscandia. The climate is in general very mild for its northerly latitude due to significant maritime influence, that in spite of this still retains warm continental summers. Today, Sweden is a constitutional monarchy and parliamentary democracy, with a monarch as head of state. The capital city is Stockholm, which is also the most populous city in the country. Legislative power is vested in the 349-member unicameral Riksdag. Executive power is exercised by the government chaired by the prime minister. Sweden is a unitary state, currently divided into 21 counties and 290 municipalities.

See also: https://sweden.se/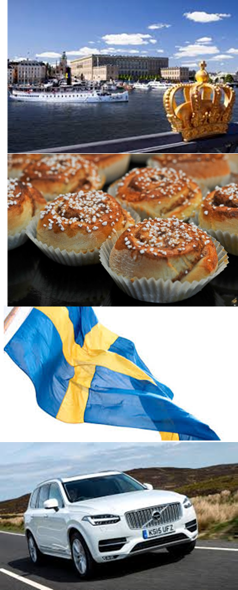 BRIEF HISTORY and GEOGRAPHY: Gothenburg is the second-largest city in Sweden and the fifth-largest in the Nordic countries. Situated by the Kattegat, on the west coast of Sweden, the city proper has a population of 549,789, with 549,839 in the urban area and 982,360 inhabitants in the metropolitan area.

Gothenburg was founded by royal charter in 1621 by King Gustavus Adolphus. At the mouth of the Göta älv, the Port of Gothenburg is the largest port in the Nordic countries.

Gothenburg is home to many students, as the city includes both the University of Gothenburg and Chalmers University of Technology. Volvo was founded in Gothenburg in 1927.
Gothenburg is served by Göteborg Landvetter Airport, located 30 km (18.64 mi) southeast of the city center. The smaller Göteborg City Airport, located 15 km (9.32 mi) from the city center, was closed to regular airline traffic in 2015.

Gothenburg is located on the west coast, in southwestern Sweden, about halfway between the capitals Copenhagen, Denmark, and Oslo, Norway. The location at the mouth of the Göta älv, which feeds into Kattegatt, an arm of the North Sea, has helped the city grow in significance as a trading city. The archipelago of Gothenburg consists of rough, barren rocks and cliffs, which also is typical for the coast of Bohuslän. Due to the Gulf Stream, the city has a mild climate and moderately heavy precipitation.It is the second-largest city in Sweden after capital Stockholm.

See also: https://en.wikipedia.org/wiki/Gothenburg